History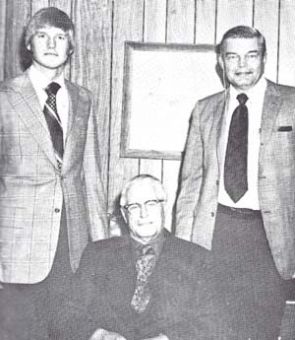 Three Generations of Jensens - Mark, Victor, Lyle (l-r)
In 1944, Victor Jensen purchased the agencies of Chris Jacobson, Abe Durest and Eric Nygaard to start the Jensen Insurance and Real Estate Agency.
He opened his office at his home located at 307 North 4th Street. In 1949, Victor's son, Lyle, joined the agency. In 1950, they moved their office to 207 West Main, where it operated until 1965 when it was moved to 201 North 3rd, which was formerly the Beresford State Bank.
In 1974, the business moved to its present site at 124 N. 3rd Street. This building was originally erected in 1895 by Ida and William Kundert.
Mark Jensen, the son of Lyle Jensen, joined the business in 1975 when it was then incorporated as Jensen Agency, Incorporated, Insurance and Real Estate.
The builiding at 124 North 3rd Street was vastly remodeled to accomodate the Jensen Agency. Previously, this building was a grocery store for its entire existence dating back to 1895.
A fourth generation of Jensens (Zach - Mark's son) joined the agency in 2003.
JensenOffice 400In 2013, to meet expanding needs, the Jensen Agency moved to it's current site at 307 Nth Sixteenth Street, just off Highway 46 on the west side of Beresford.
Also, in 2013, the Jensen Agency expanded again by opening an insurance office in Sioux Falls. Ryan Bak, Mark's son-in-law will be serving insurance clients from the Sioux Falls office.